Lucky Tibetan Om Mani Padme Hum Buddha Bracelet
Free Shipping. Enjoy our complimentary delivery service on all orders, with no minimum purchase required.
International Shipping. We proudly ship our products worldwide, bringing beauty and spirituality to every corner of the globe.
Secure checkout. Your security is our priority. Our checkout process is encrypted and secure, ensuring your personal information is always protected.
Handmade & Ethical. Each piece is handcrafted with care and respect, honoring ethical practices and traditional craftsmanship.
High-Quality Products. We pride ourselves on delivering only the finest quality products, crafted to the highest standards for you to cherish.
14 Day Returns. Shop with confidence, knowing you have 14 days from the delivery date to return any item if it doesn't meet your expectations.
PRODUCT INFORMATION
Jewelry Bag
Shipping & Handling
Return Policy
CERTIFICATE OF AUTHENTICITY
CUSTOMER REVIEWS
PRODUCT INFORMATION
Life moves fast. As a result, it's easy to feel stressed and overwhelmed. Moreover, it can often seem like we lack meaning or purpose. With this in mind, we created the Lucky Buddha Bracelet to provide you with a reminder of what really matters. With this in mind, it features the sacred Om Mani Padme Hum mantra, which translates to "the jewel in the lotus." This mantra symbolizes compassion and the beauty that arises out of difficulties.
Likewise, this wrist band acts as a constant companion during your daily life. At the same time, it serves as a reminder to show compassion for yourself and others. The calming mantra and silver aura work together to promote feelings of peace and connection. In fact, many people find that wearing this wrist band helps them to feel more centered and less distracted by anxious thoughts or worries.
The Om Mani Padme Hum mantra has been chanted for centuries by Buddhist practitioners. It holds deep meaning about the essence of compassion. For this reason, the mantra takes the form of the bracelet to spread its profound philosophy anywhere your daily life takes you.
All in all, we crafted the Lucky Buddha Bracelet to inspire meaning, purpose and compassion. As a result, it makes a perfect gift for a loved one or yourself. In conclusion, we hope this wrist band provides you with solace from life's complications. And at the same time, we hope it reminds you that we're here for each other during the ups and downs. After all, with such busy lives, it's invaluable to have a simple reminder of what matters most - compassion, meaning and connection. And so this wrist band is a reminder we could all benefit from, as we traverse this winding path we call life.
---
Specifications:
Material: 999 Silver
Process: Handcrafted
Jewelry Type: Cuff bracelet
Color: Silver
Width: 6mm
Thickness: 3mm
Circumference: 16.5cm
Weight: 28g
Jewelry Bag
Each item purchased, comes with a red, blue or gold colored drawstring jewelry bag, that's lined with a very hospitable interior fabric. You can also choose the color of your jewelry bag by specifying it in the notes section when placing your order. Or just contact us and let us know.

Shipping & Handling
We offer worldwide shipping with standard international shipping and trusted shipping providers like DHL, FedEx and UPS.
For most orders, we usually ship within 1-2 business days. For larger orders and orders over $500 we usually ship within 3-5 business days.
Items that come with certificates of authenticity such as our jade and ivory (mammoth tusk) products may require up to 5-10 business days handling time.
Delivery roughly takes between 8 to 12 business days.
Orders are shipped from the United States, the Himalayas in India, Tibet, Nepal and China. Depending on what you purchase, depends on where your order will be shipped from.
Please note, that due to the ongoing epidemic situations around the world and major holidays there may be delivery delays.
Return Policy
We know the importance of a hands on experience, and so we offer a 14 day money back guaranteed return policy beginning from the day you receive the delivery. The item must be returned in its original condition.
If you find your purchase simply isn't working out for you, just send us an email at info@mantrapiece.com or contact us through our contact page and we will be in touch shortly.
CERTIFICATE OF AUTHENTICITY
Each of our mammoth ivory and nephrite jade products comes with a certificate of authenticity. We inspect every piece to ensure the highest quality.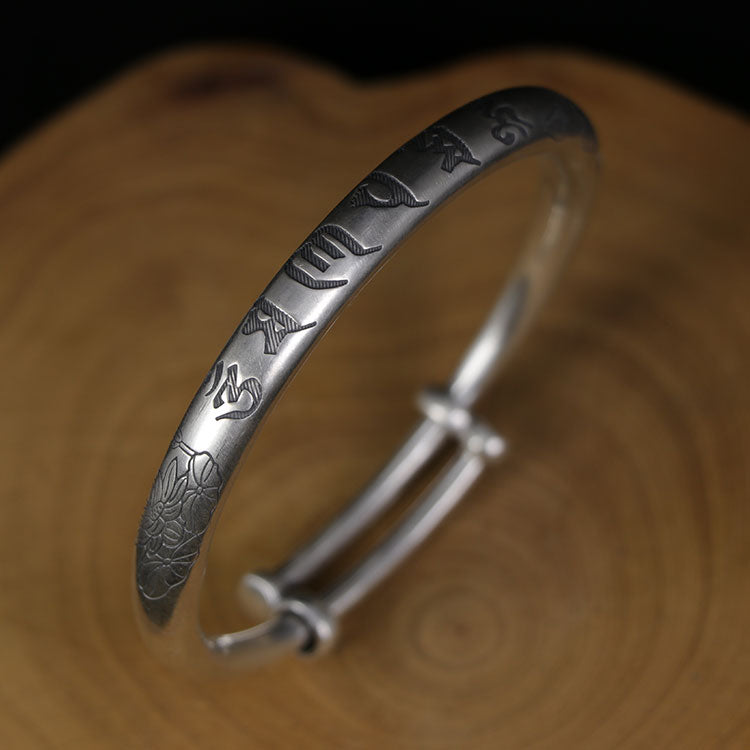 THE OM MANI PADME HUM BRACELET
Meanings, Benefits and Uses
In this contemplation of the Om Mani Padme Hum bracelet meaning, we embark on a journey through the six syllables. Where each symbol represents a unique facet of our human experience.