Antique Tibetan Red Bodhi Seed Wrist Mala
Free Shipping. Enjoy our complimentary delivery service on all orders, with no minimum purchase required.
International Shipping. We proudly ship our products worldwide, bringing beauty and spirituality to every corner of the globe.
Secure checkout. Your security is our priority. Our checkout process is encrypted and secure, ensuring your personal information is always protected.
Handmade & Ethical. Each piece is handcrafted with care and respect, honoring ethical practices and traditional craftsmanship.
High-Quality Products. We pride ourselves on delivering only the finest quality products, crafted to the highest standards for you to cherish.
14 Day Returns. Shop with confidence, knowing you have 14 days from the delivery date to return any item if it doesn't meet your expectations.
PRODUCT INFORMATION
Jewelry Bag
Shipping & Handling
Return Policy
CERTIFICATE OF AUTHENTICITY
CUSTOMER REVIEWS
PRODUCT INFORMATION
Like that of a river flowing gently through the valleys of our spiritual journey. The Bodhi Seed Mala whispers to us of ancient wisdom. And brings serenity in to our lives. For this reason, it is a treasury of enlightenment. Which rests perfectly in the palm of our hands. In the same way, like that of a bridges. It gaps the divide between the physical and the metaphysical. Thus, it invites us to embark on a transformative voyage. Towards a deeper understanding of ourselves and the world around us.
With this in mind, in the tapestry of spirituality. The Bodhi rosary is a symbol of awakening and enlightenment. The sacred bodhi seeds, which adorn this mala, are the seeds from the Bodhi tree. Which is the tree that the Buddha attained enlightenment under. And so, because of this, each seed carries within it the potential for enlightenment. And thereby, they are an invitation to nurture the seeds of wisdom and compassion. Which lie within our own hearts.
This exquisite mala features 23, 30-50 year old Tibetan Bodhi seeds. With that said, each one is imbued with the rich legacy of spiritual seekers, who have come before us. Moreover, strung together with a vibrant red cord. These seeds are a testimony to the timeless beauty of spiritual practice. And yet, a delicate red tassel adorns the mala. Which symbolizes the connection between the individual and the divine. Like that of the thread which weaves us all together in the cosmic dance of life.
As a companion to meditation. This rosary serves as a powerful anchor to the present moment. With this in mind, it helps us to quiet the chatter of our minds. As well as, deepen our awareness. Likewise, the tactile sensation of the seeds on our fingertips. Guides our focus inward. And in turn, they allows us to enter the sacred space within. And thereby, unlock the doors to inner peace, clarity, and understanding.
In the realm of yoga, this rosary is a tangible expression of the union between body, mind, and spirit. With that said, as we move through our practice. It serves as a reminder to stay grounded in our intention. As well as, to cultivate mindfulness in every posture. Likewise, the seeds' presence is a gentle nudge towards harmony and balance. And the integration of all aspects of our being.
In daily life, this rosary is a constant companion. Which serves as a talisman of peace and protection. And so, with each touch, it reminds us to breathe deeply. As well as, to stay connected to our inner wisdom. Even amidst the turbulence of our modern world. Due to this, it is an invitation to reclaim our spiritual heritage. And at the same time, it helps us to live in alignment with our highest selves.
All in all, with the Bodhi Seed Mala by your side, you can embark on a journey of self-discovery and spiritual growth. For, it is your guide to the depths of your own heart. So, as you allow the gentle whispers of its ancient wisdom to resonate within you. It will illuminate the path towards a more meaningful and fulfilling life. Embrace the sacred connection that this mala has to offer. And thus, let it be a beacon of light in your journey towards enlightenment. Nonetheless, today, you can take a step closer to your true self. By welcoming the Bodhi Seed Mala into your life.
---
Specifications:
Origin: Tibet
Material: Bodhi seed
Colors: Dark reds
Process: Handmade
Jewelry Type: Wrist mala
Tassel: Yes
Guru Bead: No
Bead Count: 23
Bodhi Seed Diameter: 9*11mm
Jewelry Bag
Each item purchased, comes with a red, blue or gold colored drawstring jewelry bag, that's lined with a very hospitable interior fabric. You can also choose the color of your jewelry bag by specifying it in the notes section when placing your order. Or just contact us and let us know.

Shipping & Handling
We offer worldwide shipping with standard international shipping and trusted shipping providers like DHL, FedEx and UPS.
For most orders, we usually ship within 1-2 business days. For larger orders and orders over $500 we usually ship within 3-5 business days.
Items that come with certificates of authenticity such as our jade and ivory (mammoth tusk) products may require up to 5-10 business days handling time.
Delivery roughly takes between 8 to 12 business days.
Orders are shipped from the United States, the Himalayas in India, Tibet, Nepal and China. Depending on what you purchase, depends on where your order will be shipped from.
Please note, that due to the ongoing epidemic situations around the world and major holidays there may be delivery delays.
Return Policy
We know the importance of a hands on experience, and so we offer a 14 day money back guaranteed return policy beginning from the day you receive the delivery. The item must be returned in its original condition.
If you find your purchase simply isn't working out for you, just send us an email at info@mantrapiece.com or contact us through our contact page and we will be in touch shortly.
CERTIFICATE OF AUTHENTICITY
Each of our mammoth ivory and nephrite jade products comes with a certificate of authenticity. We inspect every piece to ensure the highest quality.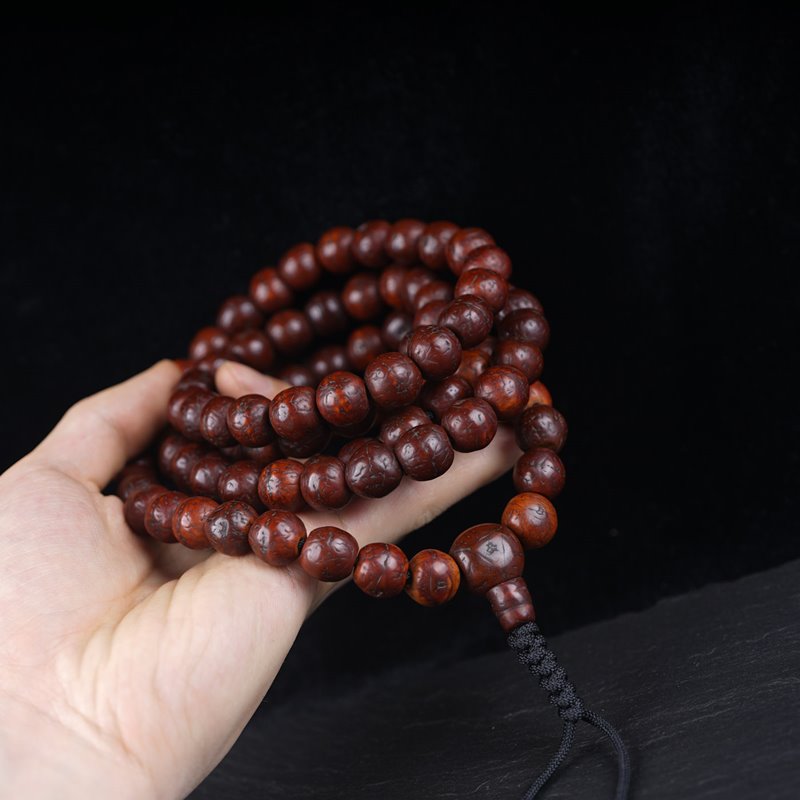 THE BODHI SEED MALA MEANING
The Path to Enlightenment
through this deep exploration of the Bodhi seed mala meaning, may we rediscover the essence of contemplative practice. And as we do so, ignite a passion for inner peace.