Antique Tibet Old Yak Bone Skull Wrist Mala
Free Shipping. Enjoy our complimentary delivery service on all orders, with no minimum purchase required.
International Shipping. We proudly ship our products worldwide, bringing beauty and spirituality to every corner of the globe.
Secure checkout. Your security is our priority. Our checkout process is encrypted and secure, ensuring your personal information is always protected.
Handmade & Ethical. Each piece is handcrafted with care and respect, honoring ethical practices and traditional craftsmanship.
High-Quality Products. We pride ourselves on delivering only the finest quality products, crafted to the highest standards for you to cherish.
14 Day Returns. Shop with confidence, knowing you have 14 days from the delivery date to return any item if it doesn't meet your expectations.
PRODUCT INFORMATION
Jewelry Bag
Shipping & Handling
Return Policy
CERTIFICATE OF AUTHENTICITY
CUSTOMER REVIEWS
PRODUCT INFORMATION
Tibetan skull malas are a type of Buddhist mala that are commonly used in the practice of meditation. These malas originated in Tibet, and have since been used as a way to contemplate the meaning of life and death during meditation. And help the user to develop a deeper understanding of the impermanence of life.
In Tibet, malas made of skull beads play a huge role in the cultivation of Tibetan culture. These skull beads are usually made from different types of animal bone, wood or gemstones. To the Tibetan people, skull beads are symbolic of honoring the beasts of burden, such as the Tibetan yak, which have served Tibetan people and their livelihood. Tibetan people also wear skull beads as a way of being reminded of the importance of honoring and serving their neighbors, just as the might beast of burden have served them. These skull beads are also worn as a way to help Tibetan people remain grounded and intoned with their natural world. And by reminding them that their lives are short-lived and subject to the laws of impermanence, they can live joyful lives filled with gratitude in each moment. A virtuous quality which can be seen in the smile and behavior of most Tibetan people.
This Skull Bone Mala Tibet is made from hand-carved old Tibetan yak bone which has been hand-carved into small skull beads and strung with durable rope and tassel.
For more of these authentic mala bracelets, please visit our Impermanence Wrist Malas collection.
---
Specifications:
Origin: Tibet
Material: Yak bone
Colors: Browns, greens
Process: Handmade
Bead Count: 26
Guru: No
Tassel: Yes
Jewelry Type: Wrist mala
Bead Dimensions: 7.5*8mm
Jewelry Bag
Each item purchased, comes with a red, blue or gold colored drawstring jewelry bag, that's lined with a very hospitable interior fabric. You can also choose the color of your jewelry bag by specifying it in the notes section when placing your order. Or just contact us and let us know.

Shipping & Handling
We offer worldwide shipping with standard international shipping and trusted shipping providers like DHL, FedEx and UPS.
For most orders, we usually ship within 1-2 business days. For larger orders and orders over $500 we usually ship within 3-5 business days.
Items that come with certificates of authenticity such as our jade and ivory (mammoth tusk) products may require up to 5-10 business days handling time.
Delivery roughly takes between 8 to 12 business days.
Orders are shipped from the United States, the Himalayas in India, Tibet, Nepal and China. Depending on what you purchase, depends on where your order will be shipped from.
Please note, that due to the ongoing epidemic situations around the world and major holidays there may be delivery delays.
Return Policy
We know the importance of a hands on experience, and so we offer a 14 day money back guaranteed return policy beginning from the day you receive the delivery. The item must be returned in its original condition.
If you find your purchase simply isn't working out for you, just send us an email at info@mantrapiece.com or contact us through our contact page and we will be in touch shortly.
CERTIFICATE OF AUTHENTICITY
Each of our mammoth ivory and nephrite jade products comes with a certificate of authenticity. We inspect every piece to ensure the highest quality.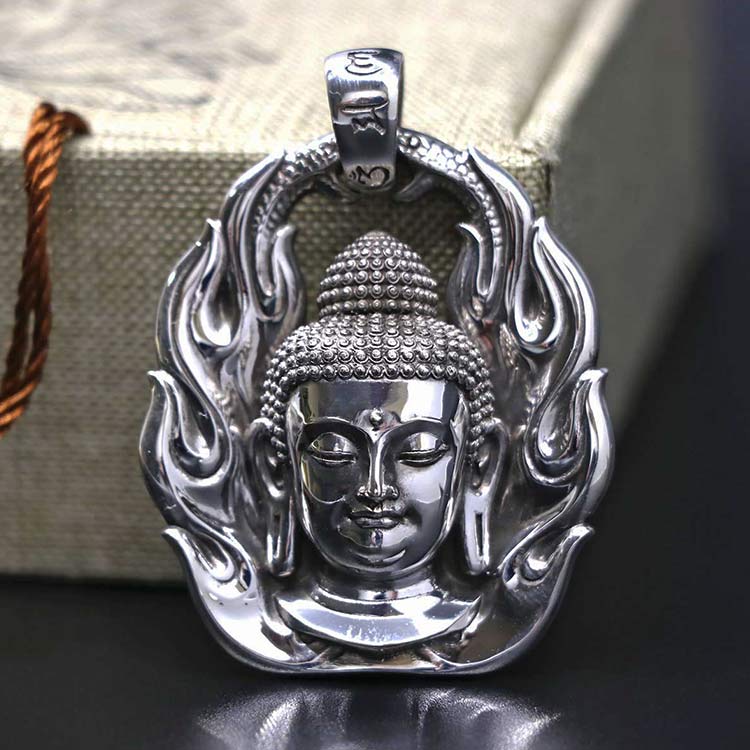 THE BUDDHA JEWELRY MEANING
Inner Guidance Through Symbolic Art
Let us ponder the Buddha jewelry meaning more deeply. And as we do so, let us try to appreciate how even ephemeral adornments nurture awareness