Old Antique Tibetan Bodhi Seed Mala
Free Shipping. Enjoy our complimentary delivery service on all orders, with no minimum purchase required.
International Shipping. We proudly ship our products worldwide, bringing beauty and spirituality to every corner of the globe.
Secure checkout. Your security is our priority. Our checkout process is encrypted and secure, ensuring your personal information is always protected.
Handmade & Ethical. Each piece is handcrafted with care and respect, honoring ethical practices and traditional craftsmanship.
High-Quality Products. We pride ourselves on delivering only the finest quality products, crafted to the highest standards for you to cherish.
14 Day Returns. Shop with confidence, knowing you have 14 days from the delivery date to return any item if it doesn't meet your expectations.
PRODUCT INFORMATION
Jewelry Bag
Shipping & Handling
Return Policy
CERTIFICATE OF AUTHENTICITY
CUSTOMER REVIEWS
PRODUCT INFORMATION
The Antique Bodhi Seed Mala whispers to the soul. Like that of a gentle breeze rustling through the leaves of the sacred Bodhi tree. With this in mind, its very essence embodies the journey of spiritual awakening. And thus, it invites you to embark on a transformative path towards enlightenment. And so, as you embrace the wisdom of this ancient symbol. It will guide you through the depths of your innermost being. And illuminate the path of truth and self-realization.
Like the seed that blossoms in to the Bodhi tree. This Bodhi seed mala carries the symbolic significance of spiritual growth. As well as, the attainment of enlightenment. With that said, these seeds represent our potential to overcome suffering and ignorance. As well as, our potential to transcend the worldly attachments. Which bind us to the cycle of birth and death.
Handcrafted in the heart of Tibet. This exquisite mala features 30-50 year old Tibetan Bodhi seeds. And each one was polished to reveal their unique beauty and character. Likewise, the silver guru bead embraces the wisdom of tradition. While the vibrant purple and red tassel sways. It embodying the dance of divine energy. A total of 21 seeds are strung together with a harmonious blend of purple and red cord. Which create a mala that is as visually striking as it is spiritually significant.
In meditation, this mala will serve as a powerful tool. Which will deepen your connection with the vastness of your inner world. And in the same way, each seed will become a tangible reminder of your intention. Which will guide your breath and focus as you journey within. And uncover the source of infinite peace and boundless compassion. Which resides in the heart of your being.
As you embark on your yoga practice. This mala will become a bridge between the physical and spiritual realms. And so, the rhythmic touch of each seed. As you flow through your asanas. Will ignite the sacred fire within you. Which in turn, will purify your body and mind. And ultimately lead you towards a state of harmonious balance and inner strength.
In daily life, this mala will serve as a constant reminder of the impermanence of all things. And yet, it will inspire you to live each moment with intention. As well as, gratitude and unwavering presence. And so, as you wear it as a sacred talisman. You will allow its energy to guide you on your path of self-discovery and spiritual growth.
All in all, the Antique Bodhi Seed Mala is not merely an object. But a living symbol of the timeless journey towards enlightenment. And so, as it accompanies you through your meditation, yoga, and daily life. You will begin to awaken to the truth of your own divine essence. With that said, embrace the wisdom of this ancient treasure. And as you do so, allow the seeds of enlightenment to blossoms within your heart. Begin your journey today. By Inviting the Antique Bodhi Seed Mala in to your life. So that you may witness the unfolding of your sacred path.
---
Specifications:
Origin: Tibet
Material: Bodhi seed, carnelian, Tibetan beeswax amber
Colors: Dark browns, silver, reds, purples, blues
Process: Handmade
Jewelry Type: Mala bracelet
Tassel: Yes
Guru Bead: Yes
Bead Count: 21
Bodhi Seed Diameter: 10*11.5mm
Jewelry Bag
Each item purchased, comes with a red, blue or gold colored drawstring jewelry bag, that's lined with a very hospitable interior fabric. You can also choose the color of your jewelry bag by specifying it in the notes section when placing your order. Or just contact us and let us know.

Shipping & Handling
We offer worldwide shipping with standard international shipping and trusted shipping providers like DHL, FedEx and UPS.
For most orders, we usually ship within 1-2 business days. For larger orders and orders over $500 we usually ship within 3-5 business days.
Items that come with certificates of authenticity such as our jade and ivory (mammoth tusk) products may require up to 5-10 business days handling time.
Delivery roughly takes between 8 to 12 business days.
Orders are shipped from the United States, the Himalayas in India, Tibet, Nepal and China. Depending on what you purchase, depends on where your order will be shipped from.
Please note, that due to the ongoing epidemic situations around the world and major holidays there may be delivery delays.
Return Policy
We know the importance of a hands on experience, and so we offer a 14 day money back guaranteed return policy beginning from the day you receive the delivery. The item must be returned in its original condition.
If you find your purchase simply isn't working out for you, just send us an email at info@mantrapiece.com or contact us through our contact page and we will be in touch shortly.
CERTIFICATE OF AUTHENTICITY
Each of our mammoth ivory and nephrite jade products comes with a certificate of authenticity. We inspect every piece to ensure the highest quality.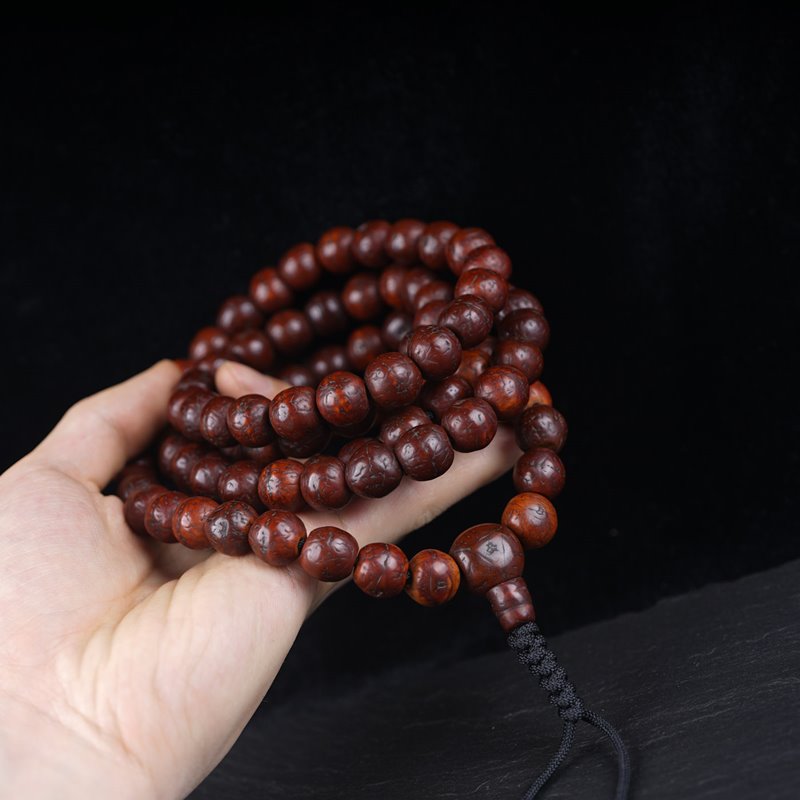 THE BODHI SEED MALA MEANING
The Path to Enlightenment
through this deep exploration of the Bodhi seed mala meaning, may we rediscover the essence of contemplative practice. And as we do so, ignite a passion for inner peace.