Tibetan Blood-Filled Camal Bone Mala Bracelet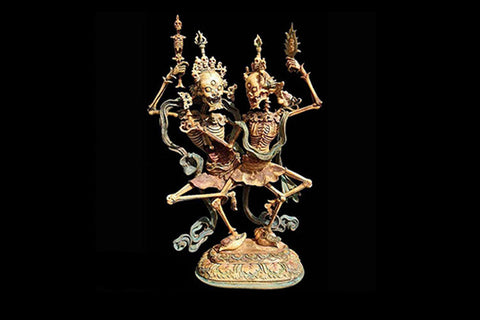 Change is constant. It insinuates impermanence, which means that our lives as a human beings will one day come to an end. This can be exciting for those that haven't yet grasped the gravity of what it implies, or it can be devastating for those that are greatly attached to worldly things. And yet therein, it can be enlightening to those who have had enough of themselves and are in search of the truth.
The Impermanence collection is a tribute to our attachment to what is ephemeral, which means that everything around us is always in perpetual metamorphosis and subject to decay and destruction at any moment. And from this constant realization, may we constantly be reminded of this sacred truth, and find great passion in living right now, making the most out of every moment.
Given the nature in which our products are created, rather they be ethnic Tibetan or Nepali malas, silver medallions, scroll lockets or bangles, each are of products are of outstanding quality and are made with the highest quality of materials and by the most professional and dedicated artisans. And so, we offer a full one year return on all purchases that become defective.
We require 3 to 5 business days to prepare the product and the shipment. During these 5 days, we will process the order and confirm legitimacy of the transaction. While we are processing the order, we will also conduct a routine quality check on the product, just to ensure there are no potential quality issues.
We ship worldwide with only trusted shipping providers, DHL, FedEx, UPS and TNT. It usually takes between 5 to 10 business days for deliveries to arrive.